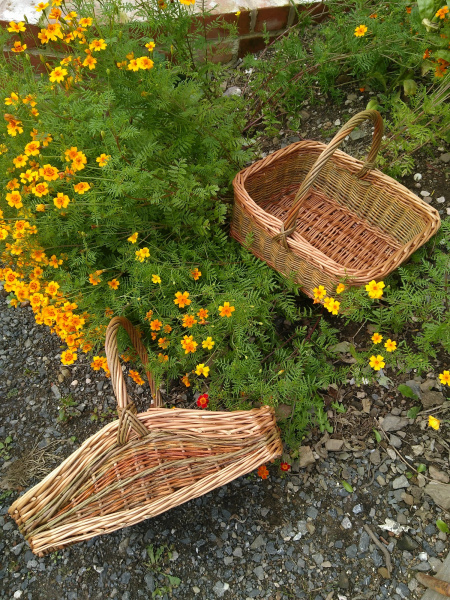 Basket Weaving 2 day Workshop
Tutor: Jane Welsh
Oblong Shopping Basket or Trug.
A two day course (22nd & 23rd May, 10am-5pm) on which we will be exploring 'square work' by using a clamp to make a rectangular base. You can then choose to build up the sides of the basket to make a shopper or a trug. We will finish the baskets with a rod border and bow handle. A selection of natural Somerset willow will be available for you to choose from to make your unique basket.
Course suitable for beginners.
10.00am-5.00pm  
COVID-19 considerations
On arrival at St Anne's everyone must wait outside until invited in by the venue manager/workshop provider. 
The building is closed to the general public, only those attending organized events may enter.
Social distancing to be adhered to.
All attendees must sanitise their hands on entering the building and follow the instructions of the venue manager/workshop provider.
Track & Trace register to be filled in.
Anyone showing signs of Covid-19 symptoms should not attend and will not be allowed into the building.
Once seated attendees must not move around the room and must stay in or by their seat at all times unless directed by the workshop provider.
Only one person to use the toilet area at a time.
Paper towels are provided (please dispose of in the pedal bins).
Antibacterial liquid soap provided in the soap dispensers.
Sanitiser for toilet seats will be provided (please spray onto tissue and wipe seat before and after use. This will ensure double sanitising). 
Patrons to bring their own refreshments.
Attendees must bring a mask.
Running time 420 minutes