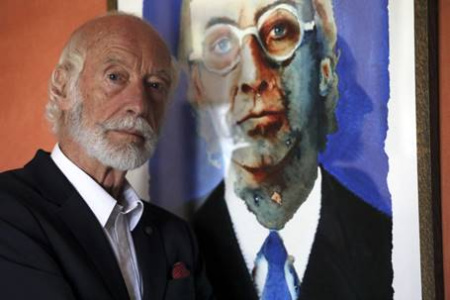 The Plough Arts Centre is delighted to welcome the judge of the Plough Prize for Poetry 2021 to Devon
Roger McGough 'Safety in Numbers'
This special evening begins with readings by the three winning entrants of The Plough Prize 2021, as selected by Roger McGough, from 2,856 worldwide entries
10 x tickets available @ £9 for Key Workers. No proof required - we trust you!
This production has already happened
Special ticket price for anyone who entered a poem for The Plough Prize 2021
Please note the earlier-than-usual start time of 7.30pm
ROGER McGOUGH    Safety in Numbers
Roger McGough is the author of over a hundred books of poetry for adults and
children.
What will we have learned from stillness and silence?
From sharing, not taking? Waiting not pushing?
Whispering not shouting? Dawdling not rushing?
Safety in Numbers is a new collection from the nation's favourite poet. Traversing
rocky terrain with the assurance of a poetry Rover on Mars, McGough brings down
to earth the strangeness of a year that was almost lost. Staycations, ghosts,
gamblers, hurricanes in a hurry and small kindnesses. Unexpected voices, a nature
trail, adultery in lockdown, time to stand & stare and how to write verse about
Liverpool. This is an evening of poetry and love and intimacies and daffodils. You
Have Been Warned.
With the gift of many tongues, playful, surreal and tender, McGough 'a trickster
you can trust' reveals the telling moments of our times.
President of the Poetry Society, he has been honoured with a CBE for services to literature and the
Freedom of the City of Liverpool. After Lily The Pink, the Aintree Iron, Scaffold, GRIMMS, The Mersey
Sound with Adrian Henri & Brian Patten and his Molière adaptations with English Touring Theatre, Roger
presents the long-running Poetry Please. The beat goes on.
@McgoughRoger
Safety in Numbers (pub.9 Nov'21, Penguin)
Running time 120 minutes. Photograph of Roger McGough by Nick Wright
'rueful, unpredictable observation to please the sharpest wits' The Independent
'a poemy torch in dark corners' Ian McMillan Poetry Review
'profound surprises and lasting images on almost every line' Siân Hughes T.E.S.
'The godfather of modern British poetry' Metro
'A witty and ingenious chronicler of British life with a deftness and agility that is hard to beat' The Poetry Society