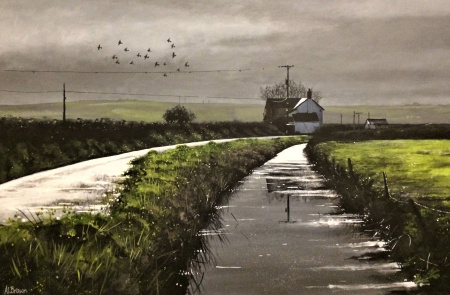 Sat 21 Sep 2019

to

Sat 19 Oct 2019
Al Brown
Al Brown studied art in the 70s at Bideford Art College/North Devon College, went on to Cornwall College of Art and has used the skills he aquired there in many varied jobs ever since.
He is inspired by the  North Devon coastline and Exmoor National Park. 
I take particular attention to wind swept trees, reflective wet sands and storm laden skies.  I try to emphasise the contrasts between light and dark in my landscape work to enhance their dramatic impact.  Due to my developing style the media I choose often becomes mixed as I constantly correct and refine the overall image.  I aspire to effortless and confident brushwork but am often hampered by my ingrained illustrative techniques.  This for me is a constant trial by ordeal as each of my compositions develop.  As I paint often emotional highs become lows as my paintings unfold.  Usually there comes a time when happy mistakes occur, confidence grows and the work becomes painfully finalised.