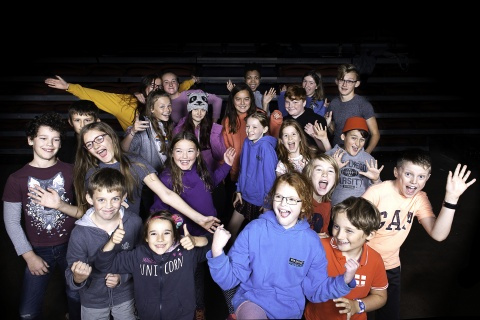 The Plough Youth Theatre provides exciting opportunities for drama and performance for 3-18 year olds in rural North Devon. We believe that drama can encourage confidence, team work, individuality and diction. It's so important to us that each child and participant gets the opportunity to take part! We explore and bring to life a range of plays from local historic and community based projects to taking part in the contemporary National Theatre Connections Programme. 
Our creative story begins with Play Story, where we bring the world of books and story telling to life with props and costume for 3-5 year olds.
Then we embark on the chapter of the Infants for 6-7 year olds where we expand our imagination on well known tales and create sharing performances for family and friends.
Next stop, the Juniors for 8-12 year olds, working on a key play to perform for the public and encouraging performance and presentation skills.
Journey on to the Seniors, where we get even more experimental, looking at improvisation, physical theatre, ensemble and touring theatre! 
There's an opportunity for everyone at The Plough Youth Theatre!
We have four workshop groups that run on Saturdays during term time here at The Plough Arts Centre, Torrington:
Play Story - 3-5 Years (10.15am-11.15am) £40 / £30 Supporters (per term)
Seniors - 13-18 Years (10.15am-12.15pm) £75 / £60 Supporters (per term)
Infants - 6-7 Years (11.30am-12.30noon) £40 / £30 Supporters (per term)
Juniors - 8-12 Years (1.00pm-3.00pm) £75 / £60 Supporters (per term)
Term dates are:
10th Sept-10th Dec. (Excl 29th Oct)
14 th Jan-25th March (Excl 18th Feb)
15th April-15th July (Excl 3rd June)
Plough Youth Script Writers- (8-18 Years)
Thursdays 4.30-5.30pm £20 for the half term
15th Sept-8th Dec (Excl 27th Oct)
19th Jan-23rd March (Excl 16th Feb)
20th April-13th July (Excl 1st June)
Get in touch to join us today - or to book a FREE Taster Session:
Email: samantha@theploughartscentre.org.uk
Call: 01805 624624