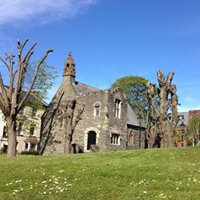 St Anne's is situated in Paternoster Row adjacent to the Parish church of St Peter and Mary Magdalene.  It is a recently restored Grade 1 Listed 14thc Chapel which now provides a space for hire.  The general details of the building are as follows:
Hire charges - £20.00 per hour or £16.00 per hour for community organisations, well established community groups or £12 for individual artists.  Weddings £250 for the hour of the ceremony. Plus regular hire charges for additional time.
The building is licensed for a maximum of 60 people. The Premises Licence allows for music and dance and the sale of alcohol but only via a member of the The Plough's team.
The Undercroft contains a kitchenette area, with crockery and tea/coffee making facilities for use by all hirers.
Folding tables and stacking chairs are also available for use.
Two lavatories are available adjacent to the Undercroft at the foot of the stone stairs.
The building is normally open for public access between 10.30am until 12.30pm. on Thursdays but can be closed for private hire if required (please ensure you put this on your booking form, otherwise we will assume this can go ahead.   
There is no parking on site, the nearest car parks being Bear Street, Queen Street or Cattle Market.  There is limited vehicular access for deliveries, subject to permission from the church authorities.  Loading and unloading are permitted for a short amount of time and then cars must be moved to a car park.
Please note due to the historic nature of the building there is no disabled access.
Equipment available:
Free Wi Fi connection
Projector
Screen
Flipchart (please supply paper and pens)
Sound system
Hanging system for gallery walls